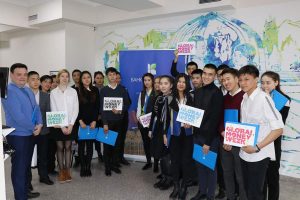 On March 12-18, KompanionBank held a number of events within the framework of Global Money Week 2018, aimed at increasing financial literacy of grade 8-11 schoolchildren from 40 schools, including schools in other oblasts of Kyrgyzstan.
Lectures in schools and open daysat KompanionBank divisions were held for about 700 pupils from different parts of our country: Kadamjay, Kerben, Osh, Talas, Toktogul, Tokmok, Kaindy, Naryn, Kochkor, Balykchy, Karakol and Bishkek.
Schoolchildren learned about the functions of banking institutions, the importance of planning incomes and expenses, as well as ways to save money. In addition, pupils and the bank'sspecialists were engaged in interactive discussionsabout the uniqueness of the national currency, as this year is Kyrgyzstansom's 25th anniversary.