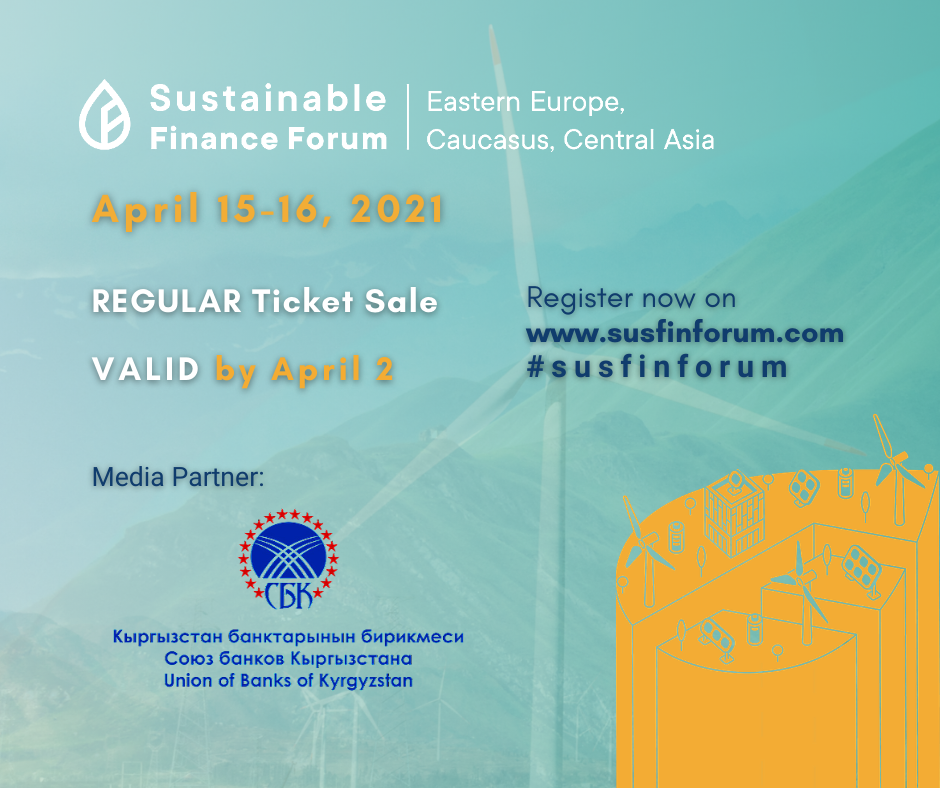 The Union of Banks of Kyrgyzstan joins as the Media Partner to the 3rd edition of the Sustainable Finance Forum Eastern Europe, Caucasus & Central Asia (SusFinForum EECA 2021), which will take place on 15-16 April 2021 in online interactive format. The SusFinForum is organised by the Dutch company Greenpact BV in collaboration with the forum's Gold sponsors CMS Cameron McKenna LLC and Mikro Kapital Management S.A.
About the SusFinForum:

SusFinForum is an annual forum for investees (banks, microfinance institutions, leasing providers, project developers) and investors (funds, asset managers, investors & financiers) in the EECA region that are committed to creating a social and environmental impact in the region.
The goal of the SusFinForum is to enable partnerships between funds and banks/MFI-s to catalyze investments for the sustainable and green transition of the region. The goal of the forum is to catalyze investments for sustainable infrastructure and development in the region, through innovative financing models. The forum is specifically designed for impact investors, commercial banks, microfinance institutions, SMEs and start-ups that have a business model incorporating environmental and social impact.

By 2nd of April the SusFinForum tickets are available for 255EUR: https://www.susfinforum.com/register.
Ticket prices will go up to 299EUR during the last weeks before the forum.
Special prices are provided to the members of the Union of Banks of Kyrgyzstan (https://www.susfinforum.com/register), as well as those organisations which register 3 and more participants for the forum and/or partner around the SusFinForum.
The design of the forum includes the following key features:
virtual edition – attend the forum right from your office or home desk without jet lags and travel expenses;
interactive program – share your expertise, learn about the latest developments in the regional markets by participating in virtual round tables;
networking – access the networking platform and establish meaningful connections with the event participants before, during, and after the forum;
agenda topics – regional developments and covid-19 impact, green bonds, financing RE and EE projects, ESG risks & returns, impact measurement & valuation and many others.
Join the forum to meet over 200 participants from Symbiotics, Triple Jump, International Finance Corporation, EBRD, OECD, Finance in Motion, Triodos Investment Management, Global Climate Partnership Fund, KFW DEG, Investment Fund for Developing Countries, Green for Growth Fund, responsAbility, and many other organisations.
The agenda includes topics from green bonds, to impact measurement for banks, renewable energy finance, and bankability, ESG and local currency risks and returns, and many others.
For more information please see attachments: Brochure, Agenda.
Website: www.susfinforum.com
Event on Facebook: https://fb.me/e/1bznDfOfX
Event on LinkedIn: https://lnkd.in/erQUe82
For inquiries, please contact partnership@susfinforum.com (Please mention that you are a member of EBA Network)