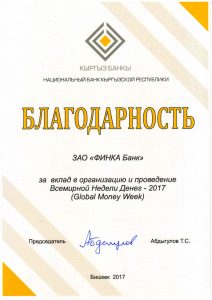 The National bank of Kyrgyzstan has noted the letter of thanks for the contribution of FINCA of Bank in the organization and carrying out of the World week of money-2017 (Global Money Week).
FINCA Bank is an active participant of the Global Money Week campaign which purpose is to increase the level of financial literacy of the population. It takes place annually in more than 100 countries of the world.
Delivery of letters took place within the International financial forum (BIFF-2017) which has taken place on June 2 in Bishkek. More than 400 representatives of international, and local companies participated in a ceremony initiated by the Union of Banks of Kyrgyzstan and NBKR.