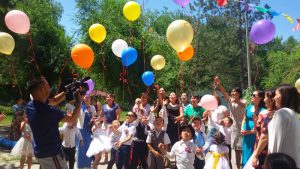 The employees of branches and of the Head Office of FINCA Bank congratulated children fostered in the child care centers on the occasion of the International Children's Day.
FINCA Bank congratulated children on the occasion by organizing a sport and entertaining festivity named "Mash Botoy" (which can be translated from Kyrgyz as "An agile colt" [young camel]).
The team of Bishkek branch visited the Nur-Bakcha kindergarten of the village of Dzher-Kazar and donated entertaining toys and sweets to the children.
The employees of Kerben branch presented educational toys to the children fostered in the Archa-Beshik kindergarten.
Their colleagues from Karakol gave kids furniture to the Balazhan kindergarten of the village of Akbulun, besides presents were delivered to the Kelechek orphanage of the village of Kyzyl-Suu and to the kindergarten of the village of Kurmenty.
Naryn branch has donated a washing machine to the new kindergarten named Ayday.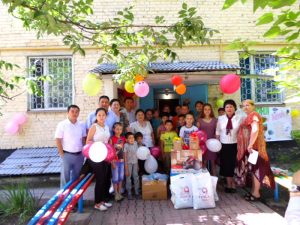 Batken branch has supported a charitable event named "Dlya detey" ["For Children"] which took place in the Central Park of the city. The money collected in the course of the event were donated to the Nur children's health complex and to orphan kids. Besides all the children who were present at the event received educational toys and ice-cream given to them on behalf of FINCA Bank.
The Crisis Centre for Children of the town of Kara-Balta received vacuum cleaners, chandeliers for its new premises from the representatives of the branch. The employees of the bank gave T-shirts, boots sweet presents to each child fostered there.
Employees of the IT Department in cooperation with their colleagues from the Retail Lending Department of the Head Office of FINCA Bank collected money and donated video equipment and the things necessary for the schoolchildren to the specialized orphan boarding school of Krasnaya Rechka.
FINCA Bank acted as one of the sponsors of the charitable concert devoted to the World Children's Day. The organizer of the event is the non-governmental charitable foundation "Help the children-SCD" which provides assistance to children suffering from oncological, hematological and immunological diseases, with the support of the Ministry of culture, information and tourism of the Kyrgyz Republic.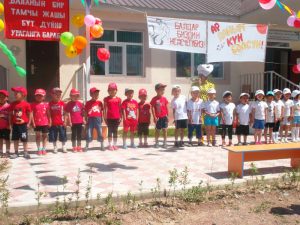 Proceeds from the sale of tickets for a concert, as well as the donations collected during the concert will be directed for purchasing pharmaceuticals for the little patients of the units of hematology and oncology of national medical institutions.