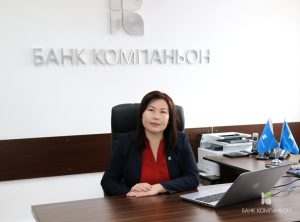 From March 12, 2018 Margarita Cherikbaeva was appointed as a CEO of Kompanion Bank CJSC.
Prior to joining Kompanion Bank, Margarita had been CEO of Finca Bank from 2015. From 2011 to 2015 she held position of the Chief Operating Officer in Finca Bank.
Prior to that, Margarita Cherikbaeva supervised the work of the business units associated with German bank ProCredit Holding in the Caucasus, West Africa and Latin America. She has many years experience in consulting work in West Africa, Southeast Asia and the Middle East.  Margarita Cherikbaeva received a Masters Degree in Economics from the University of Trier (Germany).
"Today, Kompanion Bank maintains stable positions in the banking sector of Kyrgyzstan, demonstrating stable growth and commitment to the social mission and responsible lending standards.  We highly appreciate Margarita's many years of experience and are confident that under her leadership the bank will continue to develop dynamically, becoming more technologically advanced and be more convenient for our customers.  At the same time, from the whole Board of Directors, we express our gratitude to Erkinbek Jumabaev for the work done successfully during the period when he was leading the Kompanion, " said Stephen Mitchell, Chairman of the Board of Directors of Kompanion Bank.
Recall that from May 2017 to March 2018 Erkinbek Jumabaev was the CEO of Kompanion Bank CJSC.  He joined Kompanion team in 2005 and has extensive experience in the fields of economy, finance and banking.  From 2009 to 2017, Erkinbek Jumabaev was Deputy Chairman of the Executive Management Team of Kompanion Bank CJSC.
About the Bank:
Kompanion Bank offers a full range of banking products and agri business development services to the people of Kyrgyzstan. Since its establishment in 2004, Kompanion has passed all stages of institutional development and is now a sustainable financial institution with KGS 6.5BN assets and KGS 1BN equity. As of February 28, 2018, about 1,100 Kompanion employees served 91k clients in 115 offices throughout the country. The shareholders of the Bank include Mercy Corps, an international non-governmental organization, Dutch development bank (FMO), and European investment funds of Triodos Investment Management. Visit www.kompanion.kg for more information.