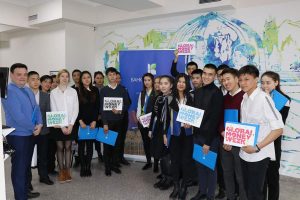 On March 12-18, KompanionBank held a number of events within the framework of Global Money Week 2018, aimed at increasing financial literacy of grade 8-11 schoolchildren from 40 schools, including schools in other oblasts of Kyrgyzstan.
Lectures in schools and open daysat KompanionBank divisions were held for about 700 pupils from different parts of our country: Kadamjay, Kerben, Osh, Talas, Toktogul, Tokmok, Kaindy, Naryn, Kochkor, Balykchy, Karakol and Bishkek.
Schoolchildren learned about the functions of banking institutions, the importance of planning incomes and expenses, as well as ways to save money. In addition, pupils and the bank'sspecialists were engaged in interactive discussionsabout the uniqueness of the national currency, as this year is Kyrgyzstansom's 25th anniversary.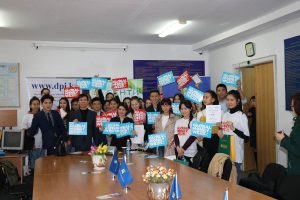 Also, a money quest was organized in Bishkek for 40 schoolchildren aged 12 to 16. After a lecture on financial literacy, the participants had to complete several assignments, for which they received play money called "bilim". At the final auction after the game, the "bilims" could be exchanged for certificates for opening 5000-, 4000- and 3000-som deposit accounts, as well as other prizes –money board games, bookstorecertificates, etc. While the schoolchildren were engaged in the game, their parents had the opportunity to attend a lecture on family budget management.
This year, Global Money Week was held in 137 countries for 7 800000children and adolescents. It is traditionally organized under the aegis of Child and Youth Finance International. In our country, financial literacy events are coordinated by the National Bank of the Kyrgyz Republic, with active assistanceon the part of state bodies, commercial banks, as well as other international and public organizations.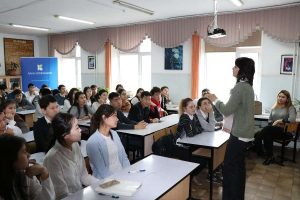 About the Bank:
Kompanion Bank offers a full range of banking products and agri business development services to the people of Kyrgyzstan. Since its establishment in 2004, Kompanion has passed all stages of institutional development and is now a sustainable financial institution with KGS 6.5BN assets and KGS 1BN equity. As of February 28, 2018, about 1,100 Kompanion employees served 91k clients in 115 offices throughout the country. The shareholders of the Bank include Mercy Corps, an international non-governmental organization, Dutch development bank (FMO), and European investment funds of Triodos Investment Management. Visit www.kompanion.kg for more information.