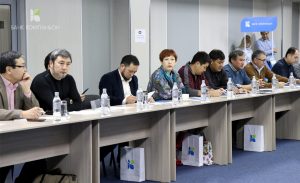 On March 2, Kompanion Bank, in partnership with the Sustainable Energy Financing Facilities in Kyrgyzstan (KyrSEFF), and with the support of JIA Business Association, held a meeting with entrepreneurs, where representatives of companies, as well as individual entrepreneurs in construction, restaurant, hotel and food businesses, as well as other industries, locked horns.
The meeting was mainly devoted to the presentation of energy-efficient business solutions provided by the Kompanion Bank under the Sustainable Energy Financing Facilities in Kyrgyzstan. Using those banking products, entrepreneurs can not only conduct energy-efficient upgrading, but also acquire additional profitable grants. Installation of energy-efficient equipment (replacement of production equipment, installation of pumps, fans, compressors), solar panels, modernization of greenhouses and heat insulation of industrial buildings will significantly decrease production costs.
"Kompanion is not just a bank that provides a classic range of banking services. We are on a social mission and we try to support projects that positively affect not only the development of small and medium-sized enterprises, but also have a positive impact on the environment. We have become partners with the Sustainable Energy Financing Facilities in Kyrgyzstan (KyrSEFF) and provide loans to businesses for energy efficient purposes with the possibility to receive grants of up to 15% of the loan amount. For example, having acquired a KGS20 million loan for the above-mentioned purposes, you have the opportunity to receive a grant of up to KGS3 million," said Narynbek Alybaev, Deputy CEO of Kompanion Bank.
"Our technical specialists provide consultations completely free of charge, based on the objectives of each project. We are ready to provide a list of reliable suppliers. From my experience, I can say that even the most costly projects pay off in three to four years, and savings on electricity, heating and other costs will be significant. It is true that the more autonomous and economical all production processes are, the more competitive the enterprise will be," noted Abdyrasulova Nurzat, KyrSEFF National Manager.
All participants were open-minded – entrepreneurs asked questions and received detailed answers.
Baktygul Dzhunushev, entrepreneur: "We have long planned to introduce the latest technological solutions for economical use of water in the hotel business. In Turkey, the introduction of these technologies has long been mandatory at a state level. Here, such equipment is installed at one's wish. But we fully understand how important it is to use water resources rationally and carefully and, therefore, are ready to introduce new technologies into our businesses. After this meeting, I am confident we are on the right path!"
Kompanion Bank will continue to support initiatives in the field of energy efficiency, and to introduce effective banking products that will not only benefit the business community, but also contribute to the green economy.
More information is available in all Bank's outlets, on www.kompanion.kg website, and via contact center by the following phone numbers: 0 (312) 33-88-00, 88 00.
About the Bank:
Kompanion Bank offers a full range of banking products and agri business development services to the people of Kyrgyzstan. Since its establishment in 2004, Kompanion has passed all stages of institutional development and is now a sustainable financial institution with KGS 6.5BN assets and KGS 1,616BN equity. Kompanion employees serve 93k clients in 115 offices throughout the country. The shareholders of the Bank include Mercy Corps, an international non-governmental organization, Dutch development bank (FMO), and European investment funds of Triodos Investment.
About KyrSEFF+ program
Kyrgyz Sustainable Energy Financing Facility (KyrSEFF+) is an investment vehicle to finance efforts aimed at using modern equipment in houses and businesses and renewable energy sources for energy and water conservation and waste management. The program was developed by the European Bank for Reconstruction and Development (EBRD). KyrSEFF+ is being implemented in all areas of the country with the participation of local partner banks. For more details, please visit www.kyrseff.kg.