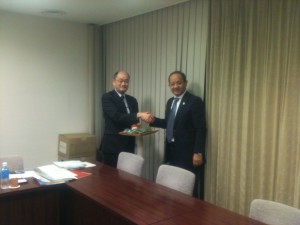 Within the program Japan International Cooperation Agency (JICA), "Strengthening business associations", President of the Association of the Union of Banks of Kyrgyzstan, Mr. Anvar Abdraev, met the leaders of the Association of Japanese banks led by, Director of the Association Mr. Hideharu Iwamoto.
The meeting discussed issues of mutual cooperation, including issues related to the exchange of experiences, advice and training of employees of financial institutions.
According to Mr. Anvar Abdraev, at a meeting, occurred good exchange of views and been achieved certain agreements, and it is hoped that the process of cooperation will continue. It was also noted that, given the positive results of ongoing meetings with foreign business representatives, we can say that our country attract some interest and we are looking for alternative ways of development.
The Japanese Bankers Association (JBA) is a premier financial organization whose members consist of banks, bank holding companies and bankers associations in Japan. Origin of JBA dates back to 1945, when the organization was formed by the regionally-based bankers associations nationwide. Banks in Japan constituted JBA members indirectly by becoming members of these bankers associations. In 1999, JBA was reorganized to have individual banks as direct members. As of November 1st, 2015, JBA has 120 Full Members (banks), 3 Bank Holding Company Members (bank holding companies), 70 Associate Members (banks & bank holding company), 59 Special Members (regionally-based bankers associations) and 1 Sub-Associate Member for a total of 253 members.
In addition to the Japanese Bankers Association, there exist several other banking associations: The Regional Banks Association of Japan, the Second Association of Regional Banks, and the Trust Companies Association of Japan, each of which work for the common interests particular to its member banks.