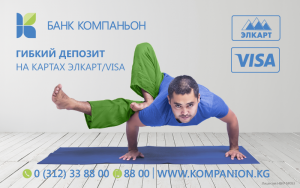 Kompanion Bank is continuously working towards the improvement of its products for the comfort of its clients. From now on, not only can you pay for products and services using Elcard national card and Visa international card, but you can save money as well.
The flexible deposit on Elcard and Visa cards has been developed for those who want to have access to cash at any time and at the same time receive interest. This product provides the highest possible flexibility to Kompanion's clients and allows them to replenish their deposit accounts, receive up to 12% per annum, and withdraw money without losing the accrued interest.
The minimum required account balance is KGS 10,000 or 20,000, at a client's discretion. Interest is accrued not only on the minimum required balance but on each replenishment amount too. Moreover, the product provides for a monthly capitalization of interest to a client's card.
The Bank's clients can use their Elcard and Visa debit cards to pay for utilities, shop at retail and service outlets and online (Visa), as well as transfer money via CARDEX (Elcard).
In addition to that, with the help of Internet banking service, the clients can remotely control their deposit accounts what makes the product even more convenient!
You can open a flexible deposit at any Kompanion Bank's office. More information is available on www.kompanion.kg website and via the call center by the following phone numbers: 0 (312) 33-88-00 and 88 00 (calls from mobile phones are free of charge).
About the Bank:
Kompanion Bank CJSC was established in 2004. Since its establishment, Kompanion has passed all stages of institutional development and has significantly expanded its presence in the market of Kyrgyzstan. The Bank with assets of KGS 6.1 billion and equity of KGS 1 billion 616 thousand serves more than 94 thousand clients and has 112 offices throughout the country. The shareholders of the Bank include Mercy Corps, an international non-governmental organization, Dutch development bank (FMO), and European investment funds of Triodos Investment Management.