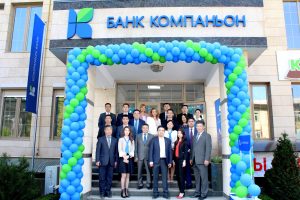 Kompanion Bank announced the opening of the Central Branch in Bishkek.  The branch works with private clients and legal entities, offering a wide range of banking services: cash and settlement services, currency exchange operations, money transfers, deposits and payment cards.
"We continue to expand our branch network and are now even closer and more convenient for our clients in the capital. By opening a new office in the city center, we tried to create all conditions for fast and high-quality service.  We are inviting you to our new branch and we will be glad to become a reliable partner offering profitable financial solutions, «said Ulanbek Termechikov, CEO, Kompanion Bank CJSC
Since its foundation in 2004, Kompanion Bank has significantly expanded its presence in the Kyrgyz market.  The Bank's branch network covers all regions of the country and has 111 branches.
The central branch is located at 106 Toktogula Street (Razakova intersection) and open to customers from Monday to Friday from 8.30 to 17.30 without break. For more information call 0312 33 88 00 or 88 00.
Welcome to new Central Branch.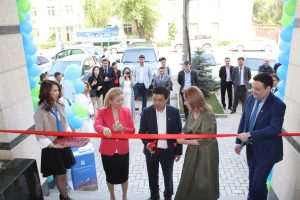 About bank:
Kompanion Bank CJSC was established in 2004. Since establishment, it became developed and well established financial institution with current assets of 6.3 billion KGS and with registered capital of 1, 6 billion KGS. Currently, Bank has 96 000 active clients and employs more than 1000 employees with 111 branches and bank outlets in all regions of Kyrgyz Republic.
Main shareholders of the bank: Mercy Corps, Netherland Bank of Development (FMO) and European Investment fund Triodos Investment Management