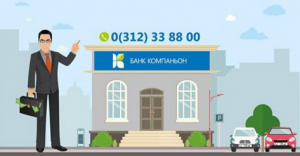 Kompanion Bank extended promotional event on business loans in US dollars. Entrepreneurs can obtain loans for working capital and investment in productive assets at a reduced rate – 12% per annum until the end of February 2017 .The minimum amount for a loan at this rate is 10 000 USD.
Kompanion Bank also offers preferential loans in cooperation with the Russian-Kyrgyz Development Fund. Affordable loans for enterpreneuers and businesses for long-term  investment for specific industries offered at 12% per annum for 5 years in KGS without fees or commissions.
"Kompanion Bank is a reliable partner for entrepreneurs, providing affordable and effective financing for small and medium business (SME). We continue to expand the range of banking services becoming more convenient and closer to our customers," said Ulanbek Termechikov, Kompanion Bank, CEO.
For more information please call 0 312 33 88 00, visit website www.kompanion.kg, also information is available at Kompanion Bank branches and savings offices.
About Bank
Kompanion Bank CJSC was established in 2004. Since establishment, it became developed and well established financial institution with current assets of 6.7 billion KGS and with registered capital of 1, 6 billion KGS. Currently, Bank has 96 000 active clients and employs more than 1000 employees with 109 branches and bank outlets in all regions of Kyrgyz Republic.
Main shareholders of the bank: Mercy Corps, Netherland Bank of Development (FMO) and European Investment fund Triodos Investment Management