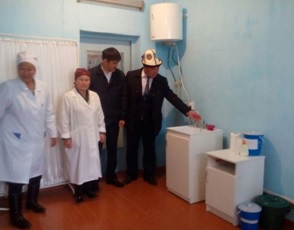 Within the framework of Corporate Social Responsibility, FINCA Bank has implemented one more project by providing assistance to a medical institution.
Bazar-Korgon branch of FINCA Bank has initiated and implemented repair works in the Family Practice Center. For a long time the employees of the Family Practice Center in Bazar-Korgon had difficulties with clean water supply; the employees of the medical institution had to fetch water from the nearby school and to carry out the process waste water out of the building by themselves.
With the active support of FINCA Bank, the works on providing clean water supply to the building of the Center have been carried out: a water storage tank has been built, the treatment room has been supplied with cold and hot water, an electric pump and a hot-water boiler have been installed, wastepipes have been laid.
Representatives of the local administration, the employees of the Family Practice Center and local population were present at the ceremony of the handover of the performed works.
"For the first time during a long period we will work under such conditions. Our entire collective has been looking forward to it and we are very glad to receive this help. This center provides medical assistance to the whole population of the area", the medical staff of the Family Practice Center shared their impressions.
It's noteworthy that FINCA Bank runs socially important campaigns on regular basis, paying great attention to the development of corporate volunteering in its projects.
For more detailed information about social responsibility projects of FINCA Bank, please visit: www.FINCA.kg