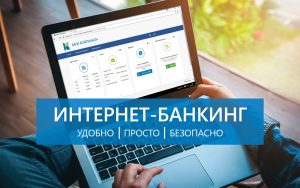 Kompanion Bank has launched an Internet banking service for private clients, legal entities and individual entrepreneurs. Now the bank's customers have a convenient, simple and secure way of online banking.
Convenient. Internet banking allows you to manage your accounts 24/7 and perform basic banking operations:
– Obtaining information about bank payments;
– Making payment of loan debts;
– Free money transfer between own accounts, and also to accounts of bank clients;
– Money transfer by clearing and gross systems;
– Currency exchange.
Simple.  To use the service, it is enough to have an account with Kompanion Bank, familiarize yourself with the offer contract, the user's instruction and tariffs for connection and maintenance of Internet banking, posted on the Bank's website.
Secure. Two-factor authentication minimizes the risk of unauthorized logins. For individuals, it is possible to receive one-time passwords via SMS messages. For legal entities, one-time passwords are generated by specialized OTP tokens.
You can get detailed information about the service on www.kompanion.kg website, by calling the contact center numbers: 0312 33 88 00 and 88 00, as well as at all branches of the bank.
Reference:
Kompanion Bank CJSC is a stable bank with assets of 6.2 billion KGS and an equity capital of 1 billion 616 thousand KGS. It provides service for over 96 thousand customers and has 112 branches throughout the country. The Bank's shareholders are the international non-governmental organization Mercy Corps, the Dutch Development Bank (FMO) and Triodos Investment Management European investment funds.